---
Our team of tutors is drawn mainly from the broad acres of Yorkshire. Most are artists or makers who are selling their work commercially in galleries or through commissions, as well as teaching. All use sound teaching techniques combined with gripping course content, lots of encouragement and bags of practical advice to inspire and guide participants to create their own work.

Ian Scott Massie:
Ian Scott Massie's artistic roots lie in the British Romantic school of the 1930′s and 40′s. He combines the visual style and philosophy of artists such as Paul Nash and John Piper with the palette and painterly freedom of artists such as Turner and Whistler in pursuit of the personality of the landscape. He is an experienced and popular teacher with an extensive knowledge of many painting and drawing media and techniques.
Josie Beszant:

Josie is a mixed media and collage artist who has run the Masham Gallery for many years. She has built up a rich knowledge of a wide variety of media and techniques, which she imparts with enthusiasm!
Sheila Smith:
Sheila is perhaps the country's best known feltmaking guru! She has been chair of the International Feltmakers Association and has numerous best selling feltmaking books to her name. Her teaching has taken her worldwide and she remains a hugely popular and personable tutor.
Rosie Scott Massie:

Coming from a family of artists, it is no surprise that Rosie is as passionate about art and craft as she is. After studying fine art at Cumbria University she returned to Masham to set up her studio where she now specialises in cut paper and painted collages.
Hester Cox:

Hester is a renowned printmaker whose work sells in many galleries around Britain. An experienced tutor, Hester has an extensive knowledge of traditional and contemporary printmaking techniques and a recent. Her reputation was developing well until we made her print knickers for Valentine's day!!
Jane Burnley:

Jane is a fine artist who has come to silverclay jewellery making in the last few years. She brings to jewellery an outstanding sense of design and proportion. Jane's knowledge and enthusiastic teaching of silverclay is bound to get you addicted to the medium.
Charlotte Morrison:

Charlotte is a recent graduate from Cumbria University where she specialised in ceramics. Now practising from her home just outside Masham she is building up a new range of work. Many of her designs are inspired by an interest in local history.
Whitfield Benson:
Whitfield is a full time photographer with a passionate interest in the natural world and a belief that photography is a truly artistic and inspirational medium. His work involves photographing people, places and wildlife from the Orkneys to Cornwall. Whitfield's enthusiasm is contagious and he loves to share this through his teaching.
Claire Humphries:
Claire has been a professional dressmaker for many years. She is an enthusiastic teacher with lots of patience and great advice and experience to share. Her approach is refreshing and exciting and is bound to inspire those around her – both experienced people and those new to the art of sewing.
Wendy Knight:
With an illustrious career in professional textile design behind her, Wendy now teaches full time. She believes that knitting is a glorious medium for colour, texture and self expression and is loving the current revival of her craft. Wendy finds magic in essentially creating a wonderful fabric from a length of string! Teaching her craft means she is part of a community reviving some lost skills.
Caroline Dunn:
Caroline Dunn is a mixed media textile designer working mainly on large hangings for commissions. Her beautiful unique work involves many different textile techniques including dyeing, quilting, felting and wide variety of stitchwork.
Her workshops offer a rare chance to gain skills and inspiration from such an expert.
Heather Dormer:

Heather is a pastel artist who loves the North Yorkshire landscape. She has taught pastel skills for many years to beginners and more experienced artists. She loves the versatility of soft pastels the texture they create and the richness of colour they can provide. She allows those who are new to pastels to find their own way intuitively with this rich medium.
Victoria Lucas:
Victoria Lucas has produced many handmade books over the past years as part of her work as a fine artist.
A selection of these books can be found in special collections across the UK, including the Brotherton Library Leeds, Manchester Metropolitan University, and Tate Britain, London.
They have been exhibited in various Artist Book Fairs across the country, and have also been part of touring exhibitions, travelling to various galleries in Europe, America, and Mexico. Victoria has taught bookbinding widely across the north.
Kate Moores:

Kate Left a job in the civil service to run the very successful Oakwood Aromatics with her husband Phil. They specialise in natural healthy handmade products. When not making, wrapping and selling her products, Kate spends time growing vegetables and stopping the cats knocking things over. She's also addicted to salsa dancing and that always puts a smile on her face.
Adrian Wood:

Adrian Wood has a degree in fine art sculpture from The University of London and it was a chance visit to a forge that gave him his first taste of blacksmithing. He recalls;"From the first moment I hit the hot steel I knew what I wanted to do." Adrian trained at a blacksmith's forge in York and subsequently worked for Brian Russell, widely regarded as one of the finest blacksmiths in the UK. Adrian has an amazing ability to motivate students passing on his valuable skills in a way that fills them with enthusiasm for the metal and its beauty.
Jackie Hunt:

A broad education in design, visual studies and art history has led to Jackie's career in glass design and book illustration. Jackie's work draws on experience of rural landscapes, conservation and local history. As well as working on projects and special commissions, Jackie loves to pass on her love of stained glass through teaching.
David Thomas:

David Thomas makes paintings and drawings about things on tables, horizons, land and sea, but mostly about the fluid process of painting. Much of his paintings and drawings are on a still life theme.
He spends as much time as possible paying close attention to things of little account. "I'm fascinated by the process of authentication and signification that objects go through before being accepted into a collection or grouping, how we make judgements between importance and insignificance." He loves teaching oils and drawing.
www.junctionworkshop.co.uk/david_thomas
Janis Goodman:

Janis has worked as a printmaker in Yorkshire for over twenty years. She is as intrigued by the repetitive patterns formed by roofs, walls and chimney pots as I am by plants, birds and trees. She looks for the unusual in the midst of the repetitive and everyday; details which amuse, enthral or just make her look again. Janis's work avoids sentimentality concentrating instead on the quirky and revealing.
Sarah Haslam:

Sarah is an experienced teacher and her art journaling is inspiring – something that her whole family shares in. She's also a prolific blogger – check out her work at:
http://sarahhaslam.blogspot.com/
Anna Poulton:
Born in Yorkshire, Anna gained her degree in Fine Art at Bretton College, and then completed a four-year apprenticeship in antique restoration. In 2002 she set up her own successful business, making bespoke furniture and restoring antiques. Anna is joint co-ordinator of the Curiously Strong art group and runs art workshops for children and adults. She has recently been chosen to show her work in the Leeds City art gallery and the Mercer Gallery in Harrogate.

Stuart Whitehead:

Stuart is a practising artist who studied fine art in Leeds and is the joint co-ordinator of the Curiously Strong Arts Group in Harrogate. He is also currently running a variety of arts project privately and within schools. His ceramic Maquettes have become very popular as jewellery and he has adopted the ancient Japanese Raku glazing technique to give a lush finish to ever individual piece of ceramic.

Jess Wilkinson:

Jess is inspired by her natural surroundings and this is reflected in her work with many pieces taking on the shape of natural forms. She uses natural sustainable materials such as willow, cornus, birch and many other locally grown woods to recreate organic sculptural forms. Combining traditional basketry techniques with contemporary sculptural design, her work ranges from functional baskets and lampshades to randomly woven garden sculptures.
Lin Blyth:
Lin's love of floral art and design is expressed using many different styles of flower arranging including historical, traditional, interpretative, abstract and contemporary. She has been involved in designing and taking part in flower festivals held in churches, cathedrals and historic houses and has also taught, demonstrated and held workshops over many years. Lin seeks to inspire people to create wonderful flower designs, each piece being as unique as the person who arranges it.
Nickie Titterington:
Nickie comes from a family of upholsterers. She has upholstered furniture all her life using the skills and techniques handed down through her family. She loves the process of renaissance, bringing new life to old things and her approach is pragmatic, workable and based on years of experience.
Jacqui Walker:
Jacqui Walker loves textiles, wools, fibres, yarns and all manner of spinning, dyeing and creating with them. As well being a prolific maker, she runs a business, "Spinning a Yarn", which sells fibres (as roving, tops and batts for hand spinning), plus a range of hand-made, unique and individual spindles, other spinning tools and hand dyed yarns. Jacqui is an enthusiastic, relaxed and approachable teacher of spinning so don't miss a chance to learn with her.  You can follow what's she's up to on her blog:
www.allstitchedup/blogspot.com
Julie Glaze:
Julie's love is of creating sculptural forms using her skills in wielding a crochet hook. She has spent quite some time developing her own techniques and each piece she creates takes many, many hours to complete. When not creating tiaras, jewellery and sculptures in crochet she can be found working as a professional in the construction industry. But she much prefers teaching crochet workshops, spending time with family and kayaking in the rivers and sea around the British Isles.
See Julie's amazing work on her Etsy site
Wendi New:
Wendi loves working in colour and exploring different mediums and techniques. She has worked in education – teaching graphics, print and computer graphics in FE, alternative education for children out of mainstream school, and also in mental health. Currently working freelance as a visual artist, her work is mostly illustration, silk painting and print – appearing on greetings cards, murals and visual displays.

Past commissions include HMP Hollesley Bay, Silk scarves for an exhibition touring the UK for Manor House Museum, silk scarves for Norwich Cathedral and Bury St Edmunds Cathedral, Graphic work for Tourist Information Centre, Bury St Edmunds and Sunderland Civic Centre.
Chris Helliwell:
Chris Helliwell is an artful bodger! Bodging is the traditional wood-turning craft, using green (unseasoned) wood to create cylindrical wooden woodturning via a pole lathe. Chris works with ancient tools and methods to create everything from dibbers to chair legs, goblets and poles.
He has exhibited his work and demonstrates and teaches his art at events across the region.
Rebecca Lynch:

Rebecca has been working with silver for many years. She loves the process of working with raw silver and is passionate about giving people skills and confidence they can take away and use in their own homes.
She has taught silversmithing at Adult Education Centres right across the North East and her students have had some spectacular successes.
Lynne Glazzard:

Lynne Glazzard is an experienced and enthusiastic teacher of jewellery making, metal clay, art clay silver and enamelling. She has an MA in design and a Higher Education Teaching Certificate and is a qualified Senior Art Clay Instructor. She has recently achieved Masters Registry Level 1 for her own work.
She is a former Chair of the Guild of Enamellers and has been enamelling since 1999. She has studied with tutors in enamelling and metal clay in the UK, Japan and France and throughout 2009 was artist in residence at Whitby Museum.
Heather Ritchie:

Heather Ritchie is one of Britain's most experienced rugmakers and teachers of rug-making. When Heather moved into a house in North Yorkshire with cold flagstone floors, a neighbour showed her how to make a rug using hessian sacking and old lisle stockings. Heather was immediately inspired by the idea and, over the last 25 years has developed and refined rag rug making skills to the highest standard. She now travels widely running workshops and is internationally recognised for her skills.
Heather Gatt:

Heather has made batiks for most of her life, but the intriguing process of wax-resist continues to fascinate her and she is always finding more to explore.
Using the finest primissima cotton from Java and a palette of the most lightfast fibre-reactive dyes, Heather constructs batik paintings in many layers, working light to dark. It is an expressive medium and Heather takes risks applying the molten wax (a mix of beeswax and paraffin wax) in broad sweeps with a wide fan brush – at other times she may carefully place hundreds of tiny wax dots with a canting (wax pen), in a process that is almost a meditation and profoundly relaxing.
Gaynor Pearson:

Gaynor spent 20 years teaching technology but put chisel to stone 10 years ago in a Portland Quarry and got the bug for carving. Continuing to build her skills while helping to run ArtisOn, she hopes to share her love of uncovering what lies within!
Ailsa Lewer:
Ailsa's work focuses on the human figure; drawing is central to her own work and informs all she does in whatever medium. Her interest in etching comes from her facination with the making of marks – developing imagery through a process of building up and paring away marks. Her latest work, developed while living in Sri Lanka includes clay sculptures.
Claire Spooner:

Claire trained in millinery at Leeds College of Art & Design, and has been making hats for 5 years. She runs her own bespoke millinery business from Pateley Bridge, specialising in ladies cocktail hats and headpieces and period reproduction hats.
Claire is a great teacher, making the complex processes straightforward and she is keen to share her skills and passion for millinery.
Janet Whittle: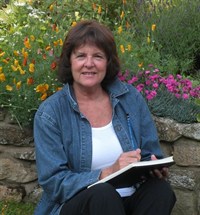 Janet is a qualified teacher specializing in watercolour painting. For 30 years, she has taught workshops in the USA, France, Spain and Italy and throughout the UK. The author of seven books which are sold worldwide and translated into 6 languages including Russian, and two DVD's. Her paintings are featured on fine art prints and greetings cards.
Janet is a member of the SFP and SBA and an inspiring teacher.
Keeley Metcalfe:
Having completed a Degree in Garden Design in 2001, Keeley's career took an alternative path and she opted to study a teaching qualification in order to retain her horticultural design skills by teaching adults.
Keeley has taught gardening and craft courses for nearly 10 years and developed special interest in mosaics. Keeley has designed a one day practical Mosaic Course in order to share her enthusiasm and the basic techniques with others.
Michelle Pilkington:

Michelle Pilkington is a wire and bead jewellery designer-maker whose work has been exhibited in around the UK. An expereinced teacher, she draws on her multidisciplinary background and wide skills in traditional crafts.
Michelle specialises in designing and making contemporary, vintage wire and beadwork jewellery which includes the use of clay, silk, paper, glass and recycled pieces. Her teaching focuses on the use of recycled tin and copper, inexpensive metals which allow for experimentation and can also be transformed into unique jewellery pieces. This allows for skills to be well developed before advancing to more precious metals.
Debra Hinde:
Debra is a interior design enthusiast who designs and creates home furnishings and accessories. Her focus is on revamping, remaking and renewing – coming up with really glamorous and contemporary creations from home furnishings that have seen better days! She sells her work but loves to encourage people to gain the skills to do their own.
Peter Berry:

Peter Berry is a highly experienced woodcarver who has demonstrated and taught throughout the UK, Europe and North America. He has delivered city and guilds woodcarving courses at Leeds college of art and design as well as courses for leisure carvers.
Peter is a prolific carver – his own work is based mainly around traditional folk carving, depicting people and animal character studies. As well as direction, encouragement and support, he brings a wealth of knowledge and experience to his workshops and his enthusiasm is very infectious.
Kevin Lambert:

Kevin Lambert is a traditional craftsman who has an enviable reputation in stone masonry and traditional carpentry.
He started his career as an apprentice banker mason in a yard where his father and grandfather both worked. He developed his career in traditional building and worked at a senior level in national companies for many years. Some of this exceptional work was done in Holland, where he specialized in building traditional timber framed houses with Flemish brickwork. Since coming back to the UK, he has trained as a professional teacher and now teaches people in the traditional crafts.
Janet Clark:

Janet is a Tapestry Hand Weaver from Brighouse in Yorkshire. Janet practises from home designing and weaving her own work. Her designs at the moment are inspired by her travels in Orkney, Australia and New Zealand and her work recreates the textures, light and mood of remembered images. She is an experienced teacher keen to pass on the skills she loves.